Here's how we grew revenue by 304% for Selfietime within the first 2 months.
Was it profitable for Selfietime to expand their channels mix with other medias than FB & IG? Indeed.

Selfietime is Denmarks biggest provider of Ringlight to professionails and content creators. The vision is to make it easier for the common business and content creator to make content for their Social Media. The products primarily targeted B2C before we joined in as an agency whereas now, a larger portion of our paid advertising goes to our B2B audience which has been a primar mover for the immense growth of Selfietime revenue.
Here's how we grew revenue by 304% for Selfietime within the first 2 months.
Selfietime came with the wish of taking their advertising to the next level. Earlier they had a cooperation with another, more corporate agency. They choose to trust the brand, and the faces outwards – but needed better communication and a thought through strategy and thorough execution.
External agency but feels like an internal team.
"Before FABO we had other agencies with the same specialities, but I must say that we can feel a huge difference working with FABO compared to previous agencies. Immediately we could feel a difference as the boys from FABO work with us on everything from the strategic part, how we should execute our campaigns in Business Manager and how we convert most traffic possible with CRO. They're basicly helping with everything that affects our paid performance. You can feel that they have an understanding of growing eCom."
It's clear for us that Frederik & Christian strategic implementations haven't only affected our revenue and bottom line. We get far more outreaches from people asking to enter a cooperation with products as a payment. Both with B2B and B2c. The brand awareness have risen significantly.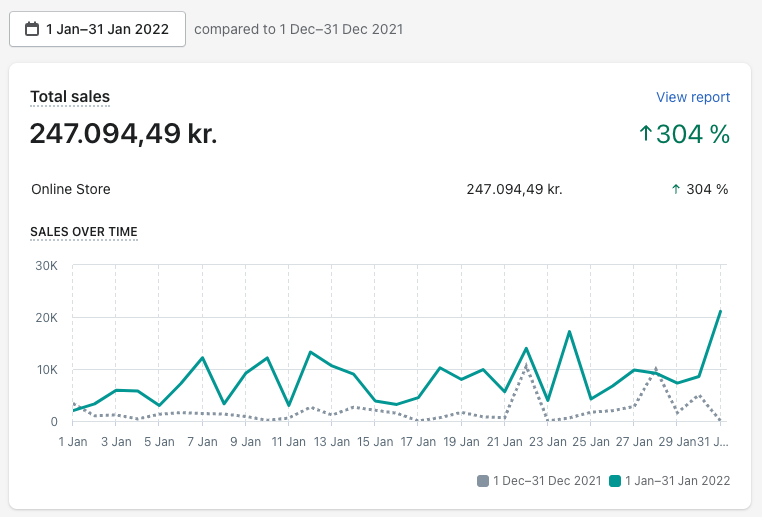 "FABO is coming with us to Sweden" 🇸🇪
"Our revenue have exploded since the start of 2022 and as of September 2022 we've just broken our revenue record by month. Therefore we're looking into expanding into new markets primo 2023. We expect Frederik and Christian to be a firm part of our marketing mix and help us scale into the swedish market.